May 5th, 2023 Update
Although May 11, 2023, marked the end of the federal COVID-19 PHE declaration; It is MAHV's policy for all patients to continue to wear masks in our waiting rooms for the safety of our immunocompromised patients.
What Does the End of the PHE Mean for You?
Vaccines will remain available.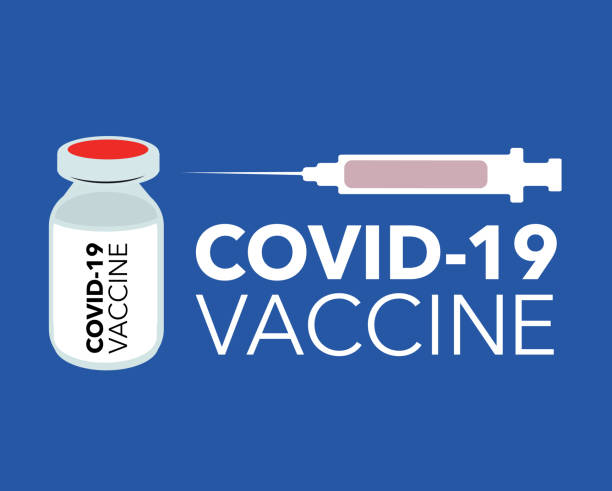 Access to COVID-19 vaccines will generally not be affected for now. The U.S. government is currently distributing free COVID-19 vaccines for all adults and children.  To help keep communities safe from COVID-19, HHS remains committed to maximizing continued access to COVID-19 vaccines.
COVID-19 at-home tests may not be covered by insurance.
 
Insurance providers will no longer be required to waive costs or provide free COVID-19 tests. CDC's No Cost COVID-19 Testing Locator can help people find current community and pharmacy partners participating in the Increasing Community Access to Testing (ICATT) program.
Treatments will remain available.
Medication to prevent severe COVID-19, such as Paxlovid, will remain available for free while supplies last. After that, the price will be determined by the medication manufacturer and your health insurance coverage. Check with your healthcare provider if you need early treatment to prevent severe COVID-19.
October 14th, 2022 Update
How To Protect Yourself And Others
As per the CDC:
Staying Up to Date with Covid-19 Vaccines
COVID-19 vaccines help your body develop protection from the virus that causes COVID-19. Although vaccinated people sometimes get infected with the virus that causes COVID-19, staying up to date on COVID-19 vaccines significantly lowers the risk of getting very sick, being hospitalized, or dying from COVID-19. CDC recommends that everyone who is eligible get a booster and stay up to date on their COVID-19 vaccines, especially people with weakened immune systems.
To find COVID-19 vaccine locations near you: Search vaccines.gov, text your ZIP code to 438829, or call 1-800-232-0233.
Getting Tested for COVID-19 If Needed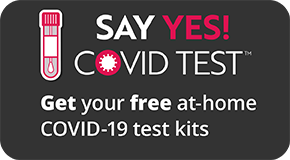 Get tested if you have COVID-19 symptoms. A viral test tells you if you are infected with the virus that causes COVID-19.
Knowing if you are infected with the virus that causes COVID-19 allows you to take care of yourself and take actions to reduce the chance that you will infect others.
You can also access tests the following ways:
Order free self-tests at COVIDtests.gov. Free tests are also available through local health departments.
If you have Medicare Part B, including those enrolled in a Medicare Advantage plan, Medicare will cover up to 8 free self-tests each calendar month from participating pharmacies and providers. Private health insurance may also reimburse the cost of purchasing self-tests. Visit FDA's website for a list of authorized tests.
Call your healthcare provider, visit a community testing site, or call your local health department for more options.
Following Recommendations for What to Do If You Have Been Exposed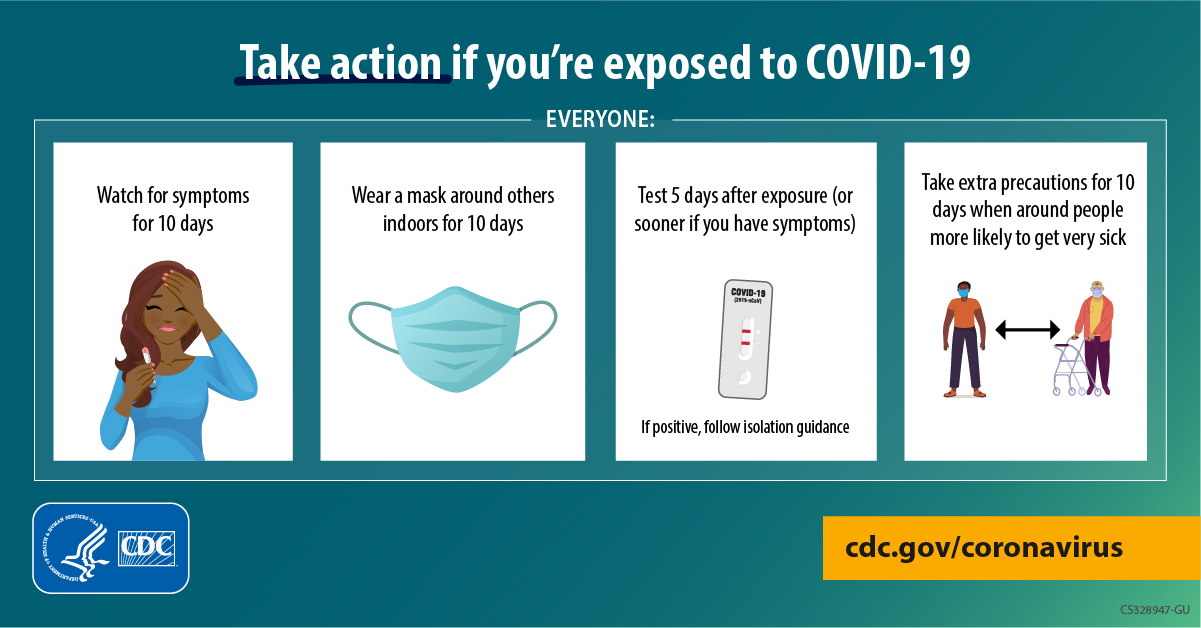 If you were exposed to someone with COVID-19, you may have been infected with the virus. Follow CDC's recommendations for what to do if you were exposed. This includes wearing a high-quality mask when indoors around others (including inside your home) for 10 days, testing, and monitoring yourself for symptoms.
Staying Home When You Have Suspected or Confirmed COVID-19
If you have COVID-19, you can spread it to others, even if you do not have symptoms. If you have symptoms, get tested and stay home until you have your results. If you have tested positive (even without symptoms), follow CDC's isolation recommendations. These recommendations includes staying home and away from others for at least 5 days (possibly more, depending on how the virus affects you) and wearing a high-quality mask when indoors around others for a period of time.
Seeking Treatment If You Have COVID-19 and Are at High Risk of Getting Very Sick
Effective treatments are now widely available and free, and you may be eligible.
Contact your healthcare provider, health department, or Community Health Center to learn about treatment options.
Don't delay! Treatment must be started within a few days after you first develop symptoms to be effective.
If you don't have timely access to a healthcare provider, check if a Test to Treat location is in your community. You can get tested, receive a prescription from a healthcare provider (either onsite or by telehealth), and have it filled all at one location.
Wearing Masks or Respirators & Increasing Space and Distance
Masks are made to contain droplets and particles that you breathe, cough, or sneeze out. A variety of masks are available. Some masks provide a higher level of protection than others.
Respirators (for example, N95) are made to protect you by fitting closely on the face to filter out particles, including the virus that causes COVID-19. They can also block droplets and particles you breathe, cough, or sneeze out so you do not spread them to others. Respirators (for example, N95) provide higher protection than masks.
When wearing a mask or respirator (for example, N95), it is most important to choose one that you can wear correctly, that fits closely to your face over your mouth and nose, that provides good protection, and that is comfortable for you.
Small particles that people breathe out can contain virus particles. The closer you are to a greater number of people, the more likely you are to be exposed to the virus that causes COVID-19. To avoid this possible exposure, you may want to avoid crowded areas, or keep distance between yourself and others. These actions also protect people who are at high risk for getting very sick from COVID-19 in settings where there are multiple risks for exposure.
If you have any questions, please speak with your doctor or visit the CDC website
January 10, 2022 Update
What To Know About Omicron
According to the CDC, the Omicron Covid-19 variant likely will spread more easily than the original SARS-CoV-2 virus. CDC expects that anyone with Omicron infection can spread the virus to others, even if they are vaccinated or don't have symptoms.
Current vaccines are expected to protect against severe illness, hospitalizations, and deaths due to infection with the Omicron variant. However, breakthrough infections in people who are fully vaccinated are likely to occur. With other variants, like Delta, vaccines have remained effective at preventing severe illness, hospitalizations, and death. The recent emergence of Omicron further emphasizes the importance of vaccination and boosters.
Scientists are working to determine how well existing treatments for COVID-19 work. Based on the changed genetic make-up of Omicron, some treatments are likely to remain effective while others may be less effective.
We have the tools to fight the Omicron variant. Vaccines remain the best public health measure to protect people from COVID-19, slow transmission, and reduce the likelihood of new variants emerging.
If you have questions about the vaccine, speak with your doctor or call our office at (845) 338-7140. New and existing patients are also able to sign up for our patient portal which makes it easier to schedule appointments, view your medical records, and request prescription refills.
August 16, 2021 Update
As per the CDC:
Data on Decreased Immune Response Among Immunocompromised People
People who are moderately to severely immunocompromised make up about 3% of the adult population and are especially vulnerable to COVID-19 because they are more at risk of serious, prolonged illness.
Studies indicate some immunocompromised people don't always build the same level of immunity after vaccination the way non-immunocompromised people do, and may benefit from an additional dose to ensure adequate protection against COVID-19. In small studies, fully vaccinated immunocompromised people have accounted for a large proportion of hospitalized "breakthrough cases," and that suggests immunocompromised people are more likely to transmit the virus to household contacts.
Who Needs an Additional COVID-19 Vaccine?
Currently, CDC is recommending that moderately to severely immunocompromised people receive an additional dose. This includes people who have:
Been receiving active cancer treatment for tumors or cancers of the blood
Received an organ transplant and are taking medicine to suppress the immune system
Received a stem cell transplant within the last 2 years or are taking medicine to suppress the immune system
Moderate or severe primary immunodeficiency (such as DiGeorge syndrome, Wiskott-Aldrich syndrome)
Advanced or untreated HIV infection
Active treatment with high-dose corticosteroids or other drugs that may suppress your immune response
People should talk to their healthcare provider about their medical condition, and whether getting an additional dose is appropriate for them.
April 28, 2021 Update

New York State now offers Excelsior Pass, a smartphone app that provides secure, digital proof of COVID-19 vaccination or negative test results.
Learn more and download the app here: https://covid19vaccine.health.ny.gov/excelsior-pass
April 13, 2021 Update

Medical Associates of the Hudson Valley, PC, currently does not have any Covid 19 vaccine for distribution as we have not received a new shipment from NYS DOH
For those of you concerned about the recent news regarding the Johnson and Johnson – Janssen Vaccine, please note the CDC and the FDA are looking into the issue thoroughly.
6 Women of the almost 7,000,000 people who received the J&J vaccine – less than 1%, had a rare reaction. We will post additional information as we receive it.
March 24, 2021 Update

MAHV is now performing Abbott Molecular Rapid Covid-19 Testing by appointment – Results received within 1 hour!
March 17, 2021 Update

Click here to read guidelines regarding what people who are fully vaccinated against COVID-19 can and can't safely do. (PDF Download)
March 11, 2021 Update

Click here for a list of Ulster County vaccination sites (PDF Download)
February 26, 2021 Update

Click Here to download this flyer (PDF download)
For more information go to: https://covid19vaccine.health.ny.gov/phased-distribution-vaccine#phase-1a—phase-1b
January 25, 2021 Update
Click here to download the flyer (PDF download).
The following sites will provide updates of when and where you can receive the vaccine:
https://covid19.ulstercountyny.gov/vaccine-resource-center/
https://am-i-eligible.covid19vaccine.health.ny.gov/
https://covid19vaccine.health.ny.gov/phased-distribution-vaccine#phase-1a—phase-1b
Covid-19 Vaccine Updates

Governor Cuomo recently announces that Ulster County Residents in Phase 1b are eligible for vaccination starting Monday, January 11th. Phase 1b includes:
People 75 and older
Teachers and education workers
First responders
Public safety workers
Public transit workers
For more information, please visit Ulster County's Covid-19 Vaccination Resource Center
Information on Covid-19 Updates
Click here to view or download our flyer with information on Covid-19 Updates.
Covid-19 Vaccine Information
Stop the Spread of Germs
Attention All Patients